Emergency Electrical Services in NH & Mass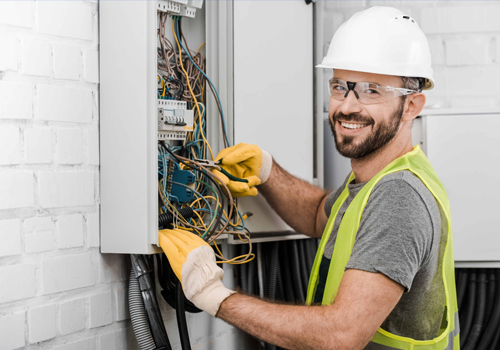 Omni Electrical Inc. provides emergency electrical services in NH & Mass 24x7, 365 days a year. If you are experiencing an electrical emergency CALL US IMMEDIATELY.
Did you know that electrical problems cause about one-third of all structural fires? Electrical hazards are very serious. Understanding when your situation requires emergency assistance is the first step – even if you suspect a potential danger, it's always safest to connect with an emergency electrician near you. That's why our team at Omni Electrical is here to help 24/7.For your safety, hiring a professional avoids potential electrical shock and fire hazards while ensuring all work is code compliant. When you work with us, you're receiving high quality emergency services – we'll repair the problem and prevent further hazards.
Some of the common indicators of an electrical emergency include:
A Buzzing or Humming Sound in Breaker Box
Overall, a slight humming sound coming from your breaker box is normal as it runs an electrical current. However, if you notice the buzzing or humming getting continuously louder, address it quickly as it may mean the circuit breaker is overloaded. An overload heats the circuit wiring and can cause a life-threatening fire hazard.
Circuit Breaker Keeps Tripping
There are a few reasons for a circuit breaker to keep tripping, including:
• The circuit breaker box is going bad
• A circuit overload the breaker box cannot accommodate
• A ground fault is occurring, meaning a hot wire is touching the ground
• An appliance or wire is short-circuiting, meaning the electrical flow has gone outside the intended circuit
Lights Flicker Continuously
If your lights occasionally flicker, it's likely a minor problem with your lightbulb or a faulty switch. When they persistently flicker this signals a more substantial problem such as a circuit overload, excess voltage, or loose wiring. These are dangerous and should have an inspection immediately.
Smoke Coming from an Outlet
A common issue with outlets is when debris builds up within. Electricity transfers to the dust and/or dirt, which causes arcing. Arcing creates heat, which is an immediate indicator of an electrical emergency that may start a fire. Other problems that can cause outlets to smoke include wiring issues, loose plug-in connections, and connecting too many devices to one outlet.
Power Outages and Power Surges
It's normal to experience loss of power from storms or when everyone on the block loses power due to a problem with the electrical company. But when you're the only one in your neighborhood to lose power, it could be a hazardous problem with your breaker box that needs immediate diagnosis. Whether or not you routinely schedule electrical inspections, sometimes hazardous situations arise unexpectedly. When power surges happen from a storm or a sudden return of power after an outage, there is an abrupt rise in the voltage. Your electrical system is unexpectedly running too much electricity through the wires. This happens when the circuit breaker might not handle the excess electricity, making anything plugged into the electrical system susceptible to burning out. When these situations happen, you need an expert team who will arrive promptly, assess thoroughly, and repair efficiently.
Circuit Breakers
Distributing and managing reliable power access is the core functionality of a circuit breaker. The more devices you add, the more stress your breaker endures. Whether you need a repair or replacement, updated circuit breakers help prevent:
• Power surges
• Power interruptions
• Broken connections
• Electrical fires
Electrical Panel Repairs
As a complex system, determining the underlying cause of an electrical panel malfunction without a professional electrician is difficult to do. Signs of an electrical panel emergency include:
• Appliances either not working or not working well
• Persistently flickering lights
• Consistently tripping breakers
• Breaker box crackles or loud buzzing noises
Generator Repair
As a safety measure for power outages that can last days, maintaining a functional generator is incredibly useful. It allows for keeping heat or air conditioning running, using essential appliances, and having lights on when you need them. Whether you have (or want to have) a permanent generator or hookups for a portable generator, you can count on the Omni Electrical team for reliable service.
Smoke Detector Repair
You should replace your smoke detector every five years to ensure it's completely reliable, and there should be a battery backup hardwired in case of emergency. As one of the most critically important components of your home's protection system, you'll need a team who can conduct impeccable repairs and understand when a replacement is best.
Electrical Switches & Outlet Repair
Are your outlets two-pronged, or not holding a plug well? Do sparks fly when you plug or unplug devices? These are all big red flags that you're due for a repair or replacement for the safety of your home and family. Additionally, if you have outlets in bathrooms, kitchens, or outdoor areas that do not have test and reset buttons, you should replace these to prevent electric shocks.
Electrical problems are high-stakes, not least because electrical problems can put your entire home at risk. Electrical issues cause roughly one-third of all structure fires and can endanger your house, your future, and your loved ones. When you're dealing with an electrical emergency there's no time to waste, That's why Omni Electricians offers 24-hour emergency electrical services in NH & Mass, 7 days a week, 365 days a year. Our highly qualified electricians provide fast, safe, and durable repairs as soon as you need them.
THANK YOU FOR CHOOSING OMNI ELECTRICAL CONTRACTORS SERVING NH & MASSACHUSETTS FOR OVER 30 YEARS!